Where We Meet – Victoria Freemasons

Freemasons General Information
The plans were submitted on October 20th, 1877, and that of Brother Teague was accepted (he was also the architect of Victoria City Hall). On December 22nd, 1877 tenders were accepted at a total cost of $8,428.00. The building is 49 feet by 67 feet.
The two lots are 120 feet wide and 120 feet long and cost $1,750.00. The title to the property including Ashlar Manor next door is held by the Masonic Temple Association which was incorporated by a private act of the B. C. Legislature in 1898 as a non profit society (prior to the existence of the Society Act).
On April 22nd, 1878 the Corner Stone was laid and consecrated on October 18th, 1878 (picture in festive board room). As an aside, the first Corner Stone laid by the Freemasons in British Columbia was on June 2nd, 1863 by R.W. Bro. Burnaby for the congregation Emanu-El Synagogue here in Victoria. (newspaper article framed in festive board room).
We meet at 650 Fisgard St. Victoria BC, on the second Monday of each month (except in July and August) at 7:00pm until 9:00pm for our GP meetings. The monthly Lodge meetings are on the fourth Thursday of every month. Fellowship starts at 5:30pm, Repast 6:00pm and Lodge tyles are at 7:00 PM. To avoid any conflicts with Thanksgiving, our October meetings are posted in our calendar as TBA.
Requirements
The ideal Masonic hall is to have the lodge room on the second floor of the building with the entrance marked by two columns. In some instances, the pillars are named or lettered. The main lodge room should be rectangular running east to west. The Victoria Masonic Hall conforms to these specifications subject to the grid pattern of the streets.
Main Lodge Room
The lodge room is 30′ wide, 57′ long and 27′ 6″ high. This is the same dimensions as the temple in Jerusalem constructed by King Solomon. However the interior is open by the omission of the inner sanctum. The ceiling represents the sky over Jerusalem at the Summer Solstice.
Street Entrance
The entrance door has pillars on both sides. Above the door is the stain glass window displaying a star constructed be two equilateral triangles with one inverted. Until the 1890s this symbol sometimes referred to as the Seal of Solomon was a widely used Masonic symbol. However in the 1890s, Zionism widely adopted this device (Star of David) as its' symbol which is the marker for most synagogues constructed subsequent to 1890.
Thus it fell out of Masonic use. For instance, the Emanu-El Synagogue here in Victoria constructed in 1863 displays the Rose of Damascus in their stained glass window at the entrance. It does not display either the Star of David or a Menorah on its facade like other synagogues in North America.
For there should be Wisdom to contrive, Strength to support & Beauty to adorn!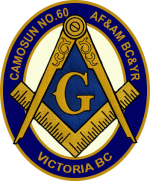 Camosun Lodge No. 60
650 Fisgard Street Victoria, BC V8W 1R6