Part of the uniform worn by Grand Master of the Grand Lodge of Canada in the Province of Ontario Paul Todd. Photo/ grandlodge.on.ca
Contact Freemasons of Victoria
Camosun Lodge No. 60
650 Fisgard Street
Victoria, BC V8W 1R6
Out of town visitors and sojourning Masons are always welcome at Camosun Lodge. If you need a ride, please feel free to email the Secretary at camosun60secretary@gmail.com. Dress code is usually a dark suit or blazer, slacks and tie. However, you are welcome no matter what you are wearing as long as you have your dues card. We can supply a Masonic apron.
The Freemasons of Victoria Camosun Lodge No.60, meet at 650 Fisgard Street, Victoria BC, on the second Monday of each month (except in July and August) at 7:00pm until 9:00pm for our GP meetings. The monthly Lodge meetings are on the fourth Thursday of every month. Fellowship starts at 5:30pm, Repast 6:00pm and Lodge tyles are at 7:00 PM. To avoid any conflicts with Thanksgiving, our October meetings are posted in our calendar as TBA
Please use the form below to contact us. We usually respond to inquiries within the day.
Camosum Lodge No. 60
650 Fisgard Street
Victoria, BC V8W 1R6
Meetings by Zoom
GP 2nd Monday of the month
7:00pm to 9:00pm
Lodge 4th Thursday of the month
7:00pm to 9:00pm
Zoom invitation will be sent via email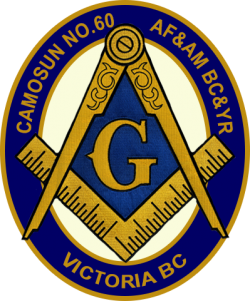 New Members and Affiliation Inquiries Welcome
The strength of Freemasonry is in its loyalty to each other.