When does Camosun Lodge meet?
We meet on the second Monday of each month (except in July and August) from 7:00 pm until 9:00 pm for our GP meetings. The monthly Lodge meetings are on the fourth Thursday of every month. Fellowship starts at 5:30 pm, Repast at 6:00 pm, and Lodge tyles are at 7:00 PM.
What is Freemasonry?
A Fraternal organization where learning, moral integrity and camaraderie are promoted.
How many Freemasons are there?
Worldwide, there are approximately six million Freemasons.
Why are you a considered a "secret society"?
We are not, but lodge meetings, like those of many other groups, are private and open only to members. The rules and aims of Freemasonry are available to the public. Meeting places are known and in many areas are used by the local community for activities other than Freemasonry. Members are encouraged to speak openly about Freemasonry.
How do I become a Freemason or Mason?
The first step is to email the Secretary of Camosun lodge, requesting more information. A response will be provided within 72 hours.
What are the qualifications to be a Freemason or Mason?
A man, 21 years or older, of sound mind who profess a belief in a Supreme Being (non denominational).
We are always happy to welcome men of all ages and from all walks of life who wish to seek out the Freemasons Camosun Lodge No. 60 and join. We Make Good Men Better! Come find out how!

Is Freemason a religious organization?
All Freemasons are expected to have a religious belief, but Freemasonry does not seek to replace a Mason's religion or provide a substitute for it. It deals in a man's relationship with his fellow man not in a man's relationship with his God.
Why do you regalia?
Wearing regalia is historic and symbolic. Like a uniform, the regalia helps to indicate the rank the wearer has attained within the organization.
Why doesn't anyone ask me to join the Freemasons?
The fact is no one will ever ask or invite you to be a Freemason! Traditionally, since the early seventeen hundreds, a person seeking to be a Freemason must ask. Read over our website and if you feel this might be something for you and that you have something to give, all you need to do is knock on our door. This is based on the the truism: "Seek and Ye Shall Find, Knock and the Door Shall Open." There is no better feeling, than belonging to something bigger than yourself. We really do make men better.

I am a Freemason who is traveling and would like to visit while in Victoria?
Out of town visitors and sojourning, Masons are always welcome at Camosun Lodge. If you need a ride, email the Camosun Lodge Secretary. The dress code is usually a dark suit or blazer, slacks, and tie. However, you are welcome no matter what you are wearing as long as you have your dues card. We can supply a Masonic apron.
Our address is 650 Fisgard Street Victoria, BC V8W 1R6. For more information about our next Freemasons meeting or event, please contact us.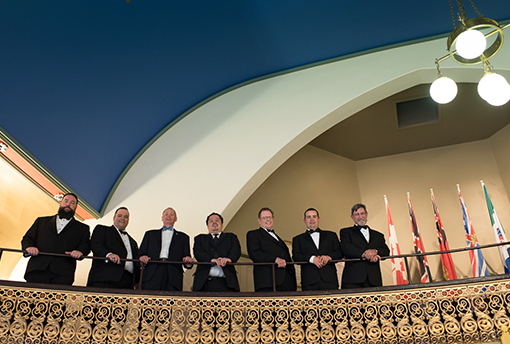 For me, Freemasonry was a part of my life growing up. My Stepfather, Ch. Supt. Norman Jones Deceased was a 65 year Mason. I was always curious about the Fraternity and the meetings he would frequent so one day I asked him. As it turned out I also had a friend of the family who had moved to BC who was a Mason. It just made sense to join.