Memberships

Camosun Lodge No.60
Annual dues for Camosun Lodge for 2021.
Grandfathered Life Members
$88
Three convenient methods of payment are available:
1. By Credit Card
Click on one of the links below to be taken to PayPal, a secure credit card payment site.  Please note a PayPal account is NOT required. There you will be offered what method of payment you want to make, PayPal or Credit card.
2. By Email Transfer using your bank's online services
For Email transfers, a security question is not required as funds are immediately deposited into our bank account.
3. By Cheque
Mail a cheque payable to Camosun Lodge No. 60:
Camosun Lodge Secretary
C/O 1549 North Dairy Rd
Victoria, BC V8T 3T9
Pay Your Dues By Credit Card Below
ANNUAL DUES
Annual dues for 2021
Pay your dues on time and make your Treasurer smile!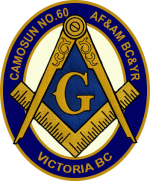 Camosun Lodge No. 60
650 Fisgard Street
Victoria, BC V8W 1R6